ዓለም አቀፍ የአካል ጉዳተኞች ቀን "አካታች ምቹና ዘላቂ የተሻለ ዓለምን በድህረ ኮቪድ-19 እንገን…

ኢሰመኮ እና የኢትዮጵያ ሰብአዊ መብቶች ድርጅቶች ህብረት (ኢሰመድህ) በኅዳር እና በታኅሣሥ ወራት 2014 ዓ…

EHRC marks International Day for the Elimination of Violence against…

ኢሰመኮ የአምስት ዓመት ስትራቴጂ ዕቅዱን በይፋ አስተዋወቀ…
The report covers the period from 3 November 2020, when the armed conflict began between the Ethiopian National Defence Force (ENDF), the Eritrean Defence Force (EDF), the Amhara Special Forces (ASF), the Amhara militia and Fano on one side, and the Tigrayan Special Forces (TSF), Tigrayan militia and other allied groups on the other, until 28 June 2021 when the Ethiopian Government declared a unilateral ceasefire.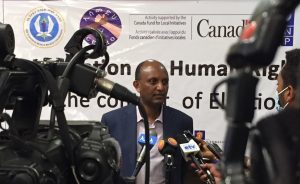 Daniel Bekele, Chief Commissioner of EHRC, speaks with journalists on the sidelines of a conference on women's participation in elections.
Fear of imprisonment and retaliation silences Ethiopia's human rights defenders and critics of the government. The Institute's partner organisation, the Ethiopian Human Rights Commission (EHRC) keeps calling on the parties to the conflict.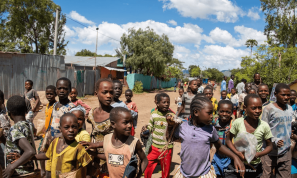 By August 2021, more than 1.7 million people were internally displaced in Tigray, while Afar and Amhara regional states have also been affected, with fighting continuing to expand in these regions.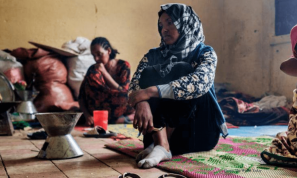 A conversation with Dr Daniel Bekele, Chief Commissioner of the Ethiopian Human Rights Commission and Winner of the German Africa Award 2021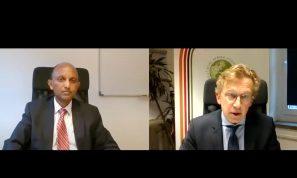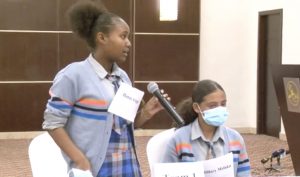 በህጻናት መብት ዙርያ በሁለተኛ ደረጃ ትምህርት ቤቶች ተማሪዎች መካከል በኢሰመኮ አዘጋጅነት የተካሄደው የምስለ ፍርድ ቤት ውድድር ማጠቃለያ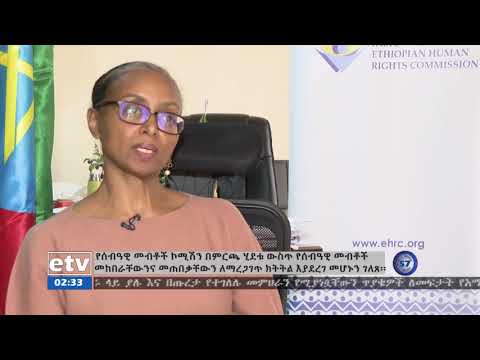 በምርጫ ሂደቱ ሰብዓዊ መብቶች መጠበቃቸውን ለማረጋገጥ ክትትል እያደረገ መሆኑን የኢትዮጵያ ሰብዓዊ መብቶች ኮሚሽን አስታወቀ - EBC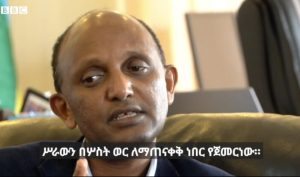 'ተቋማችን ሙሉ በሙሉ ከመንግሥት ተፅዕኖ ነፃ ነው' ዳንኤል በቀለ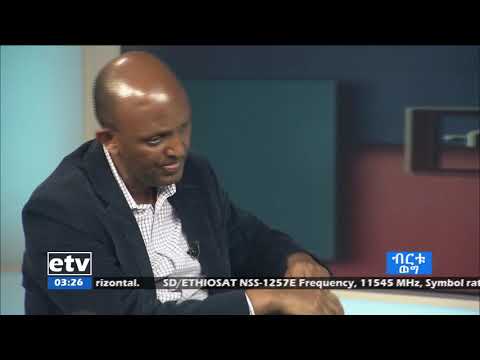 የሰብአዊ መብት ጥሰት በኢትዮጵያ - ቃለ መጠይቅ ከኢሰመኮ ዋና ኮሚሽነር ዶ/ር ዳንኤል በቀለ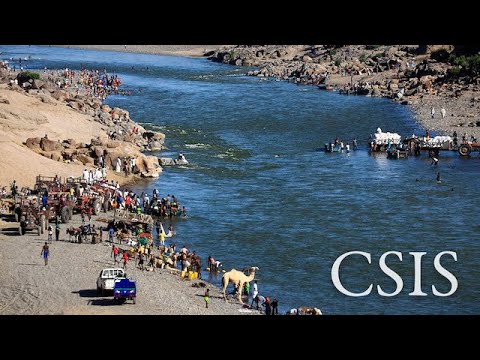 Restoring Humanitarian Access in Ethiopia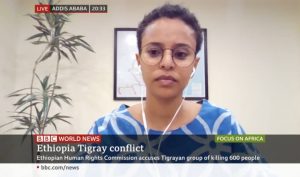 BBC World News interview on Maikadra
Ethiopian Human Rights Commission Areas of Work
Ethiopian Human Rights Commission (EHRC) is an independent federal state body established as per the Federal Constitution and reporting to the House of People's Representatives as a national human rights institution with the mandate for promotion and protection of human rights.